MDET Supports the Women's Center of Greater Danbury
The MDET seniors supported the Women's Center during the holiday season by purchasing and collecting gifts for clients of the organization.
During the project we learned there are 300 clients of the Women's Center of Greater Danbury of which many live in shelters. The Abbott community – and it certainly felt that way as staff and students – and local area businesses came together to provide over $2,500 of gifts to 30 displaced children and their families, $500 in cash/gift cards along with a lot of love and joy to a center who is always overwhelmed at that time of year.
There were so many feel good moments during this project but please allow us to share one. As the seniors began to put the finishing touches on wrapping and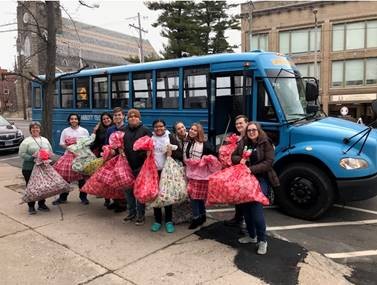 filling the gift sacks for each child there was a moment in which all of us paused and thought about the ages of some of these children being 1 and 2 years old. There were tears shed and then this tidal wave of energy overcame the room and the care that each took in making sure each gift was just so was touching. In that moment, the one we look for as teachers, they got it! They got that they could help…they could do it….and more importantly that all the effort was worth it because they started to talk about each child waking up that morning and opening gifts. In that moment they learned that they had made a difference!! It was an awesome way for all of us to go into the holiday break!
Mrs. Underhill and I wanted to thank the staff for all of their efforts and generosity during the Women's Center project, which was part of the Chic-fil-A Leadership Academy that the MDET seniors are partaking in. There are so many to thank and we'd like to take a moment to do. Thank you to Mr. Mills and Mr. Bova of Precision Machine for allowing us to expand a project that have humbly carried on for the past few years. Thank you to administration for their support. Thank you to Mr. Ballard and Mr. Kastelein of Electrical whose students helped tremendously in hanging decorations. Thank you to the Mr. Kelley and the girls volleyball team for their sizable donation and help wrapping gifts. Thank you to Ms. Fairchild and student council for helping with organizing and wrapping. Thank you to Ms. Carpanzano and HCB for the amazing gift you gave. Thank you to Ms. Shanley and ATAG for helping decorate. Thank you to the maintenance staff for their assistance. Last but not least, thank you to the staff members who went out of their way to buy gifts for a child!!
Be blessed by being a blessing!
Mrs. Underhill and Mrs. Velez