Welcome to Henry Abbott Technical High School
Mr. Kevin Durkin, Principal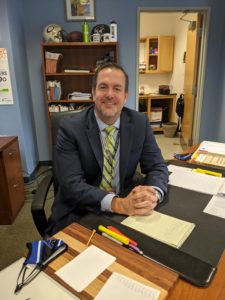 Greetings Henry Abbott Tech Families, Staff, and Community,
While many things have changed in education since the spring of 2020, Abbott Tech and its staff have remained committed to producing students who are prepared to enter the skilled workforce, college and the military. Our CTE programs strive to prepare our students through in class activities, jobsite production, in school production or clinical activity at local health care facilities. Our academic staff are continually working to improve their instructional skills for an ever changing population of students. Although we may hit a bump in the road occasionally with filling positions, our teachers are the very best! Welcome to the Class of 2026 and let's get ready for a great senior year Class of 2023!
A little about my background…
I've been a public school educator for over twenty years, beginning my career teaching middle and high school for the Stamford Public School in Stamford, CT before moving to Atlanta, GA were I continued teaching and then transitioned into school leadership. Moving back to Connecticut in 2010, I continued in my role as a school leader with the Stamford Public Schools, before being hired at Henry Abbott Tech as Assistant Principal for the 2014/15 school year. I have served on numerous building and district committees and have even been recognized a few times for my work. I am most proud of the Champion of Children Award that I received from the Center for Children's Advocacy back in 2013. I received my Bachelor's degree from Western Connecticut State University in Social Science and Secondary Education, followed by multiple graduate degrees and certificates from Sacred Heart University and the University of Connecticut.
On a personal note…
I was born and raised here in Danbury and currently live in Brookfield. Abbott Tech has been a part of my life for some time, my brother graduated as a plumber in 1987, and my grandfather graduated from carpentry when the school was still located on Main Street. My wife, a former Spanish teacher, is a local small business owner, and we have two girls ages 13 and 10.
My beliefs as an educator…
I believe that a safe school environment and a positive school climate drive the success of all members of the school community.

I believe that as educators we must teach students, not subjects. We need to adapt, and be adept at making students' learning experiences both meaningful and engaging.

I believe that as a school leader, professional capital is the most impactful investment I can make in my school's community.

I believe that providing capacity building opportunities for teachers and students develops their leadership skills and positively impacts our school community.