Athletic Director Nadeau Recognized as Certified Master Athletic Administrator
INDIANAPOLIS, IN — The National Interscholastic Athletic Administrators Association (NIAAA) is pleased to announce that Jonathan P. Nadeau, Athletic Coordinator at Henry Abbott Technical High School, has been recognized by this association as a Certified Master Athletic Administrator.
To earn this distinction, Jonathan has demonstrated exemplary knowledge, contributions and on-going professional development in the field of interscholastic athletic administration. The voluntary certification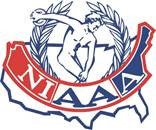 process included a thorough evaluation of the candidate's educational background, experience, NIAAA Leadership Courses and professional contributions. It is culminated with a practical written or oral presentation project.
Jonathan is one of a very elite group of interscholastic athletic administrators nationwide to attain this level of professionalism.
The NIAAA is a national professional organization consisting of all 50 state athletic administrator associations and more than 12,000 individual members. It is dedicated to promoting the professional growth of high