2020-2021 Teacher of the Year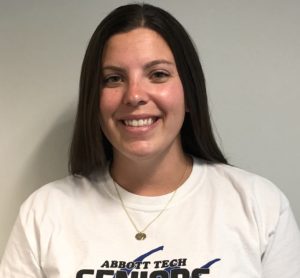 Congratulations, Ms. Marisa Shanley, Abbott Tech's Teacher of the Year 2020-2021
Ms. Shanley, a School Guidance Counselor, started at Henry Abbott five years ago as a Counseling intern. Prior to joining Abbott, she worked for a local substance abuse and mental health agency.
At Abbott, she is committed to being a positive influence to the Abbott Tech school community, including creating opportunities for our students (even with pandemic barriers). She advises the Teen Leadership Health Council (TLHC) and the Abbott Tech Awareness Group (ATAG). The mission of both clubs is to raise awareness and contribute to our school community. Ms. Shanley is also one of the Class Advisors for the class of 2022. She can be seen chaperoning, working or cheering on our students at sporting events. In addition, she has chaperoned SkillsUSA and is a member of the Wolverine Staff Pack.
In addition to her busy life at school, Ms. Shanley is currently pursuing courses at Southern CT State University in Mental Health Counseling in hopes of one day becoming a Licensed Professional Counselor (LPC). She has supervised a WCSU School Counseling practicum student and represented Connecticut as an ambassador at the American School Counseling Association national conference. Ms. Shanley truly strives to build connections and make Abbott a better place by supporting students and staff.
In her own words: "If this school year has taught me anything, it is that we truly are in this together."